The ASOR Publishing Department provides a number of venues for scholars to share their research. Publication is critical for establishing expertise and building a reputation as a scholar; exchanging information and encouraging dialogue; and increasing visibility within the discipline.
Need help renewing? Check out the Subscription Renewal Walkthrough.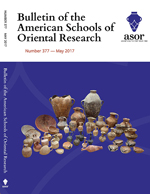 Journal of Cuneiform Studies (JCS)
Founded in 1947, this publication presents scholarly articles on the history and languages of the ancient Mesopotamian and Anatolian literate cultures.
ASOR Newsletters
News@ASOR is a twice-monthly e-newsletter that delivers organizational news updates, highlights from the ASOR Blog, deadline reminders, and more to ASOR members.
The Ancient Near East Today e-newsletter disseminates ideas, insights, and discoveries every week to Friends of ASOR, ranging from the state of biblical archaeology to archaeology after the Arab Spring.
The ASOR Newsletter (back issues only) presents brief summaries of research, announcements of events and fellowship opportunities, and the latest news from ASOR.
For permission to reuse material from ASOR journals and books, please visit www.copyright.com or contact the Copyright Clearance Center, Inc. (CCC), 222 Rosewood Drive, Danvers, MA 01923, 978-750-8400. CCC is a not-for-profit organization that provides licenses and registration for a variety of uses.