STRANGE AND MIDKIFF FAMILIES EXCAVATION FELLOWSHIPS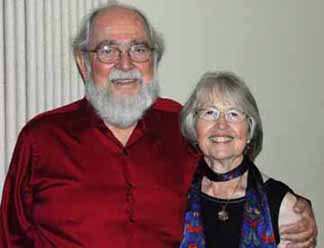 This endowed scholarship fund was established in 2014 by lead gifts from James (Jim) F. and Carolyn Midkiff Strange. These lead gifts are currently being matched by generous gifts from Jim and Carolyn's families and from students, friends, and colleagues of Jim and Carolyn. If you would like to support this fund, please e-mail ASOR Executive Director Andy Vaughn for more information.
The Strange and Midkiff Families Endowed Scholarship Funds have been designated to support the participation of ASOR members as volunteers or staff on excavation projects. Jim and Carolyn Strange have been members of ASOR for more than 50 years, and all of their children have been active in ASOR. A son, a daughter, and a son-in-law are now professional archaeologists. Jim directed an important excavation for the University of South Florida at Sepphoris for several decades, and Carolyn also played an integral role in that project. Today, the extended Strange Family is one of the most active families in ASOR, and it is not uncommon for three or four members of the family to present professional papers at the ASOR Annual Meeting.
There will be one fellowship of $2,000 given for the summer of 2018.
Application Deadline: February 1, 2018
Eligibility
Applicants must be members of ASOR or be enrolled as students at an ASOR-member school (see list of Institutional Members). Applicants are encouraged to apply for Heritage, MacAllister, Meyers, Meyers/Wright, Platt, Sheeler, Strange/Midkiff, and Member-Supported Fellowships using the uniform application form. We encourage but do not require MacAllister, Meyers, Meyers/Wright, Platt, and Strange/Midkiff Fellows to participate in ASOR-affiliated excavations (see list).
Preference will be given to individuals that have not received support through the ASOR excavation fellowship program or other funding sources for the summer of 2017. Additional preference will also be given to applicants who would not usually receive funding (for airfare, lodging or a stipend) from the excavation. Preference is also given to applicants who have not received ASOR funding for excavations in the past three years.
Upon completion of the field season, a report of 250-350 words and three appropriate photos (500 dpi resolution or higher) on site must be submitted to the ASOR office by August 15, 2018. Reports and photos should be sent via email with "Strange-Midkiff Report" in the subject line. Recipients will also be expected to send a brief note of appreciation to Jim and Carolyn Strange. More information will be available after the recipients have been notified.
Fellowship recipients will be required to sign a waiver indicating that ASOR is not responsible for any injuries they might sustain during their time at the excavation in which they participate. They will also be required to sign a release of rights to ASOR for the inclusion of their report and photographs in one of ASOR's publications.
Brief Biography of the Midkiff Family
T. O. and Lilly Midkiff were West Texas pioneer ranchers, settling and buying property there at about the turn of the twentieth century. Tyson, their oldest son, and Naomi, his wife, also bought property. They worked hard doing whatever work was necessary in order to pay off their land while living through the Great Depression. T. O. and Lilly were Carolyn Midkiff Strange's grandparents, and Tyson and Naomi were her parents.